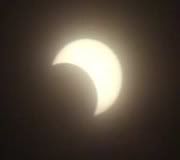 SINGAPORE: Come Wednesday (22th July 2009), China, India and Japan will be seeing its longest total solar eclipse in almost 500 years.
But Singapore will have to wait a little longer to experience the full eclipse.
Scientists said Singapore will only experience a partial solar eclipse between 8.40am and 9.40am.
They added that unlike other countries there will be minimal changes to temperature and visibility.
The Singapore Science Centre will be providing special equipment for members of the public to view the eclipse.
It will also have talks about the astronomical phenomenon. — CNA/vm