By Philip Lim @ 19/9/2011
A nearly illegible letter from almost two centuries ago is kept in a dim, cold room in downtown Singapore accessible only to a privileged few via an electronic swipe card.
In flowing script dated June 9, 1819, Singapore's colonial founder Stamford Raffles described the island's formative days as a regional trading port in the Malay archipelago, and it turned out to be prophetic.
"The Settlement I had the satisfaction to form in this very centrical and commanding station has had every success ... our Port is already crowded with shipping from all the native Ports in the Archipelago," he wrote.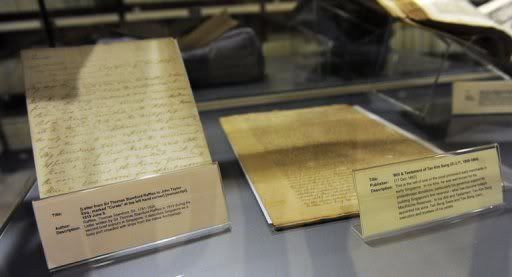 ~ letters from centuries ago displayed in a room that is home to the Rare Materials Collection (RMC) of Singapore's National Library.
The letter, as well as some 7,000 other items in the room, form the Rare Materials Collection (RMC) of Singapore's National Library, offering a more intimate look into the past of what is now one of the world's busiest ports.
"The history textbook doesn't cover everything," senior librarian Ong Eng Chuan told an AFP reporter who was allowed briefly into the chamber.
"The RMC gives you an interesting perspective of Singapore, from a small fishing village to an international trading port," Ong told AFP.
"It offers an interesting window for the generation now to look into Singapore, and how it has developed into the current place that it is now."
Stepping into the RMC may seem rather underwhelming at first as nondescript boxes containing books and documents sit neatly on shelves with no indication of their historical importance.
The boxes -- made from acid-free paper -- as well as the 18-20 degree celsius (64-68 degree Fahrenheit) temperature, 50-55 percent humidity and dim lighting are necessary to prevent the collection from degrading, Ong said.
People allowed to handle the documents have to wear gloves.
"Some of our hands might have sweat, and the moisture is not good for the paper," he said.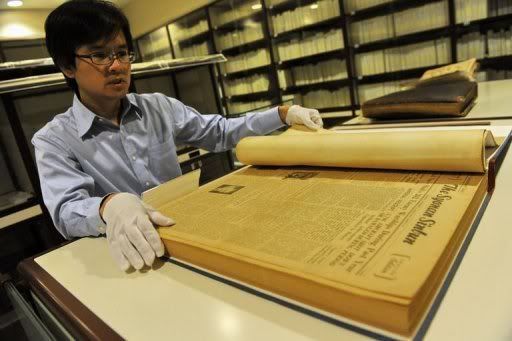 ~Senior librarian Ong Eng Chuan flipping through the pages of old newspaper Syonan Sinbun, on display in the Rare Materials Collection (RMC) of Singapore's National Library
Physical access to the RMC is strictly limited on a "case-by-case basis," with librarians routinely referring people asking to view the collection to digital versions posted on the library's website.
Anyone asking to see the real collection needs a pretty good reason.
"Seeing the actual item has an X factor that can make it more interesting for the people, but we have to balance the need to preserve the item and the need to provide access to the content," Ong said.
Publications kept by the RMC include European travelogues from as early as 1577, biographical accounts of daily life in Malaya and even love poems and cookbooks from a hundred years ago.
"The Mem's Own Cookery Book" -- meant for the wives of British administrators who established colonies around Asia at the time -- features recipes to suit the tastebuds of homesick Englishmen.
Recipes for spinach soup, roast hare and pigeon mingle with tips for more adventurous fare like jungle deer curry and sheep head broth.
In contrast, the "Hikayat Abdullah," an 1849 biography of the father of modern Malay literature Munshi Abdullah, offered a unique perspective often missing from records largely penned by Western authors, librarian Ong said.
"It offers an Asian perspective in contrast to the accounts you see from the East India company's records and the memoirs written by those officials," he stated.
In the biography, Abdullah praises Raffles -- who had employed him as a translator -- but offered a less than complimentary description of British sailors who docked in his hometown Malacca, now part of Malaysia.
"To see an Englishman was like seeing a tiger, because they were so mischievous and violent... At that time I never met an Englishman who had a white face, for all of them had 'mounted the green horse', that is to say, were drunk," he wrote.
"So much so that when children cried their mothers would say, 'Be quiet, the drunken Englishman is coming,' and the children would be scared, and keep quiet."
John Solomon, a postgraduate student from Australia's University of New South Wales, accessed the RMC twice for his research on 19th-century transmarine convicts sent to Singapore.
"As a historian, I enjoy being able to physically handle material from the period. It gives the past this powerful sense of immediacy and presence," he said.
"Being in contact with the physical material also makes me realise that Singapore's story is not merely an account of economic and social policies but is also enmeshed in the everyday struggles and triumphs of individuals from vastly different circumstances."